PIENI GALLERIA 29.3.–21.4.
Jenni Haili / On Seeing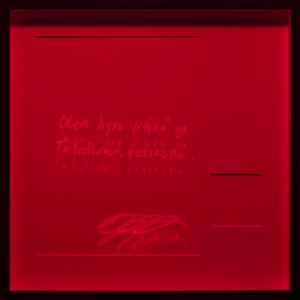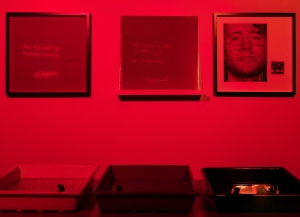 Jenni Haili:

On Seeing is a darkroom-type installation that explores seeing and being seen in society. While our experience of the world is extremely visualised, we are more and more likely to dismiss people, issues and events if they are not directly connected to our own lives. When working on the piece, Haili challenged herself to face the people we ignore on a daily basis, never actually seeing them. In the installation, the portraits are first presented in the undeveloped form of a photograph. The viewer initially encounters the individuals through their own thoughts.
Haili, a visual artist based in Helsinki, graduated in 2011 from the photography programme of Aalto University School of Arts, Design and Architecture. Her work emphasises the thematics of displaying and concealing. The technique and the characteristics of the materials play a role in the content of the piece.
https://turuntaidehalli.fi/wp-content/uploads/2019/03/Haili_Nakemisesta_installointi_1_2018.jpg
1449
2000
Info
https://turuntaidehalli.fi/wp-content/uploads/2022/03/Turun-Taidehalli_Logo_350x230px_ENG.jpg
Info
2019-03-29 12:00:12
2021-10-27 02:07:17
Jenni Haili / On Seeing, PIENI GALLERIA, 29.3. – 21.4.2019