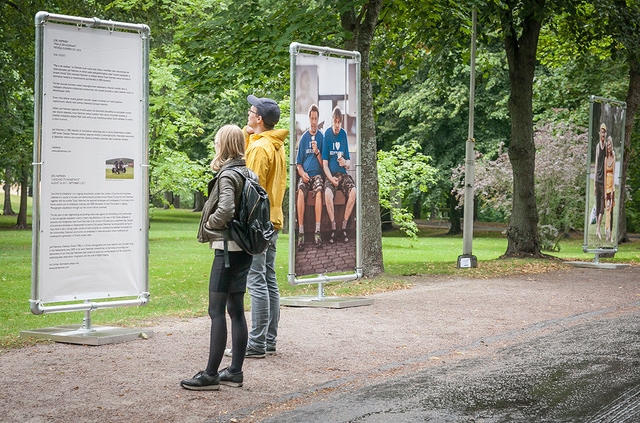 Joel Nieminen: Going in Loops – Journeys to Home 2011–2021
Kunsthalle Turku presents the photographic exhibition "Going in Loops – Journeys to Home 2011–2021" by Joel Nieminen as an outdoor exhibition at Turku's Old Great Square.
"Going in Loops – Journeys to Home 2011–2021" is an ongoing, documentary-style photography project started nine years ago, during which Joel Nieminen has charted life in his native country by cycling more than 6,000 kilometres, interviewing and photographing people around the country. Despite challenges related to finances or changes in people's place of residence, Nieminen has found that the inhabitants and communities of Finland share a strong sense of humanity, hope and humour. 
In the sparsely populated and rapidly urbanised Finland, the growth of urban areas and rural depopulation have created some tension and, at times, even a wide gap between different lifestyles. Just like anywhere else, the rapid changes in global economy and immigration resulting from various causes are also reflected on small communities on the fringes of Europe. 
Photographer Joel Nieminen (1985) was born in Helsinki and studied and lived in the Netherlands. Extensive, long-term photographic projects are characteristic of his work. The key elements in his pieces include exploring the environment and phenomena of the time. "Going in Loops – Journeys to Home 2011–2021" has been exhibited in various forms at venues such as the Finnish Museum of Photography and the Lapinlahti Park in Helsinki. Nieminen was selected to the exhibition programme of Kunsthalle Turku through an open application process.
Due to the COVID-19 situation, Kunsthalle Turku will not organise an opening for the exhibition. Kunsthalle Turku kindly asks visitors to remember caution and maintain a safe distance.
https://turuntaidehalli.fi/wp-content/uploads/2020/06/ha_expo-helsinki-august-17.jpeg
427
640
Info
https://turuntaidehalli.fi/wp-content/uploads/2022/03/Turun-Taidehalli_Logo_350x230px_ENG.jpg
Info
2020-07-03 11:50:14
2021-10-27 00:52:06
Photographic exhibition by Joel Nieminen at Old Great Square, Turku, 3.7. – 2.8.2020