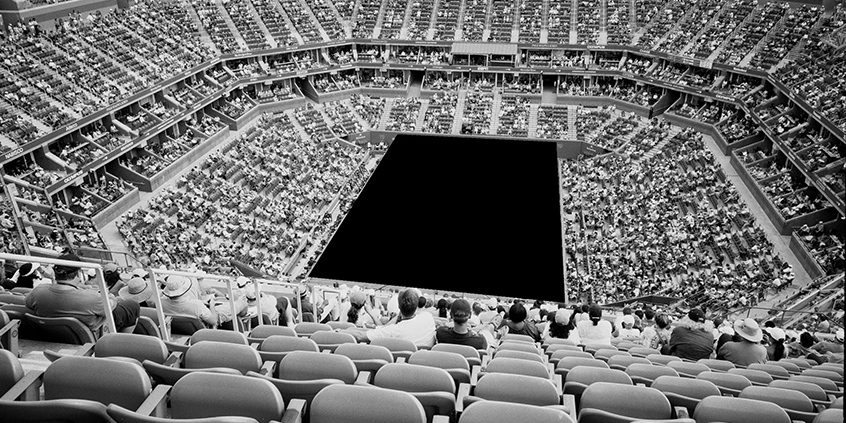 The exhibition Invisible Words consists of photographs and video works which meet at the junction of abstract and figurative pictures. Wang examines the ways in which the immaterial and the invisible can be portrayed in photography. How can the "disturbance" in a photograph be used to encourage the viewer to look behind the picture, and thus change the way that people approach and look at photographs?
It has been estimated that dark matter accounts for 84,5% of the mass of the universe. In observational cosmology, dark matter refers to mass that cannot be detected with our current technology. The abstract black colour represents an existing space that we nevertheless cannot perceive. Wang combines this concept with philosopher Georges Didi-Huberman's thought on anachronism, a chronological error, which Wang examines in her art through visual and photographic means. When something is anachronistic, incongruous with time, it can elicit an emotional response in the viewer. Wang has intentionally removed indicators of time and space from her works. Invisible Words depicts an encounter in which the viewer has an active role as an observer. The works aspire to detach from the photo and allow the viewer to experience the emotional trajectories of the works.
The exhibition features Turkka Inkilä's soundscape Transit, which is based on conversations between Wang and Inkilä on the themes of the exhibition. Inkilä has used music improvised by bassoonist Antti Salovaara as material for the soundscape.
Saana Wang is a visual artist born in 1979 in Helsinki, Finland. She works with photography, moving image and installation. Emerging from personal encounters, her work is an exploration of time, space, history and the limits of perception. She has an MA degree in Photography from Aalto University and a BA in Arts from Gerrit Rietveld Academie in Amsterdam. Her works have been exhibited internationally since 2004, e.g. in group exhibitions at Houston Center for Photography, The National Museum of Photography in Copenhagen, Musée de l'Elysée in Lausanne, and HAM in Helsinki. She has had private exhibitions in e.g. Galerie La Ferronerie in Paris, Joy Wai Gallery in New York and Photographic Gallery Hippolyte in Helsinki.
Turkka Inkilä is a musician, composer and sound designer born in 1989 living in Helsinki. He has a degree in music majoring in the flute from Metropolia University of Applied Sciences and has studied composition at the Sibelius Academy. Inkilä has provided sound design e.g. for Akse Pettersson's plays and the video works of Saana Wang, Sasha Huber and Petri Saarikko.
https://turuntaidehalli.fi/wp-content/uploads/2023/11/03_Linkage01_SaanaWang©23.jpg
556
846
Nayttelyt
https://turuntaidehalli.fi/wp-content/uploads/2022/03/Turun-Taidehalli_Logo_350x230px_ENG.jpg
Nayttelyt
2023-11-08 16:05:56
2023-11-08 16:05:56
Saana Wang: Invisible Words 17.11. – 17.12.2023