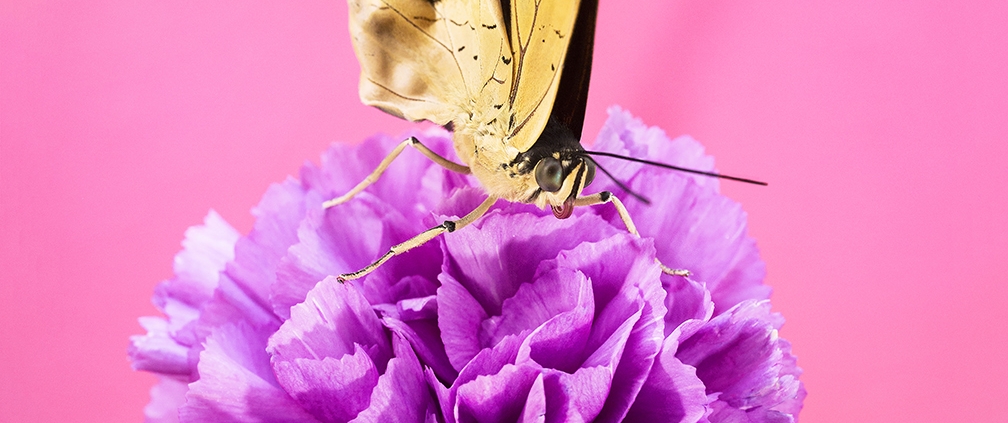 Honey, Please is a photographic installation covering the floors and walls with digitally printed textiles and creating a space which the viewer enters as they arrive in the gallery. Started in 2020, Honey, Please is a curious and hopeful attempt to recover from chronic anxiety caused by an impending sense of doom. The exhibition intertwines the decline of pollinators due to loss of biodiversity with questions of low birth rate, the pressure to procreate, a budding baby fever and a potentially catastrophic future.
"In Sofia Okkonen's world, surfaces and depths come together to create artistic worlds in which to immerse ourselves and transform our ideas of buzzy bugs, small babies and photographs. The concepts hold onto us like honey in a spoon, and the visual feast allures us to give them our own meaning. Okkonen uses her art to prove that the superficial and the deep are just different ways of understanding the same idea. Photographs and contemporary art are visual and, therefore, surface-based means of perceiving the complex questions of our reality. Okkonen opens our eyes to this wonderful phenomenon and lets us enjoy it." – Juha-Heikki Tihinen / Art Historian, Adjunct Professor of the History of Contemporary Art, University of Turku
Sofia Okkonen (1987) is a Helsinki-based artist who graduated from Aalto University with a Master's degree in Art and Design and works with staged photography and various types of creative work. In the spring of 2017, Okkonen was one of the 10 finalists in the internationally renowned Hyères Photography Competition with her series of works on the performativity of gender, titled Rose. The series has been exhibited in the Project Space of the Finnish Museum of Photography as a solo exhibition, among other things.
Depicting contrary yet simultaneous emotions and atmospheres is characteristic of Okkonen's artistic expression. In her pieces, she explores the manifestation of concepts such as beauty, corporeality, fear and trauma in front of the camera, conveyed by the production of a staged and aesthetically controlled image and, on the other hand, by elements that are uncontrollable and unconscious.
The exhibition is supported by the Finnfoto Central Association of Finnish Photographic Organisations.
Photo by: Sofia Okkonen
https://turuntaidehalli.fi/wp-content/uploads/2020/11/I-see-you-you-see-me_Sofia_Okkonen.jpg
1361
1008
Info
https://turuntaidehalli.fi/wp-content/uploads/2022/03/Turun-Taidehalli_Logo_350x230px_ENG.jpg
Info
2021-02-12 17:07:40
2021-10-27 01:31:03
Sofia Okkonen / Honey, Please, 12.2. – 14.3.2021